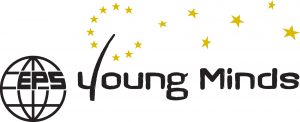 University of Warsaw Optics EPS Young Minds Section
In May 2017 we joined the EPS Young Minds Sections, working under the European Physical Society (EPS). Being a section of this international network of student chapters, we were given the access to the student funding grants programmes and opportunity to participate in yearly workshops enabling to enhance our qualifications.
EPS is a non-profit organisation, associating 42 national Physical Societies (including Polish Physical Society (PTF)) and individual members working in all scientific fields related to physics.
Being a KNOF member does not imply being an EPS member, however it may be useful in some situations. To become an EPS member, you first have to become a member of PTF (details of joining are on their website, available also in English). A yearly fee is 10 PLN for the first two years. Being a PTF member, you can then apply to become an EPS student member – a yearly fee is 20 EUR. You may be interested in talking to your supervisor/tutor about the fees – they may just agree to fund youe memberships.
The EPS members have many privileges:
discount for EPS-organised conferences
opportunity to apply for Travel Grants for EPS-organised conferences
Europhysics News subscriptions
and many more!